The capital of fashion and design can easily be visited in two or three days… provided you prepare your visit as little as possible! To help you, we have given you a recap of what you absolutely must not miss.
1. The Duomo and its rooftops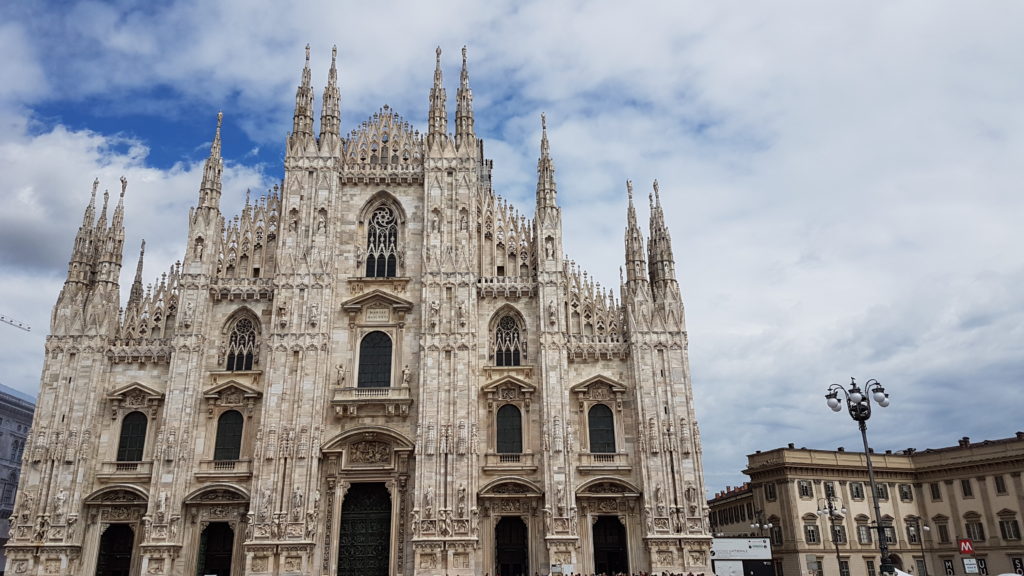 Impossible (even by doing it on purpose) to miss this imposing immaculate building which sits in the center of the city. If you are passionate about architecture, I advise you to book a guided tour of the cathedral because there is really a lot to say about it. Personally, I was satisfied with a classic free tour. I nevertheless learned several interesting things, of which here is a small summary. If you are not too into "art", we invite you to read directly the point devoted to the roofs of the building.
Its construction began at the end of the 14th century and it took around 6 centuries to complete.
It is in (neo)gothic and neoclassical style.
Its facades are decorated with marble.
There are in all more than 3400 statues. On the main facade, above the door, you can see a work that strangely resembles the Statue of Liberty.
The gilded copper statue at the top of the spire represents the Virgin Mary. She is called Madonnina. The Milanese consider that this statue watches over the city. Only a few buildings have received permission to rise higher than the "Madonnina" but, as a sign of respect, they have all decided to place a copy of the statue on their top. Like this, the Madonnina is still the highest point in the city.
The roofs
From the roofs, you will have a bird's eye view of the city but also of the incredible architecture of the place. The visit is free and therefore at your own pace. At the end, you will have the opportunity to sit on the panoramic terrace, in the sun. I visited the rooftops twice and each time I stayed a very long time enjoying this lovely terrace.
It is possible to reach it by the stairs or by an elevator. For the stairs (which are doable by everyone), it will cost 8€ per adult and 4€ per child. For the elevator, it will be 13€ for an adult and 7€ for a child. You can also buy a combined ticket which includes the visit of the Cathedral, the roofs, the archaeological museum (closed on Wednesdays), the archaeological area and the baptistery. It will cost you 18€/person. It is valid for three days. The prices listed here are the official prices at the time of writing this article. Pay attention to sites that sell you tickets sometimes four times more expensive!
In the middle of May, we had opted for a skip-the-line ticket so as not to waste time queuing, however, there was really no one at the cash desk. In summer, on the other hand, I think it can be practical.
2. Galleria Vittorio Emanuele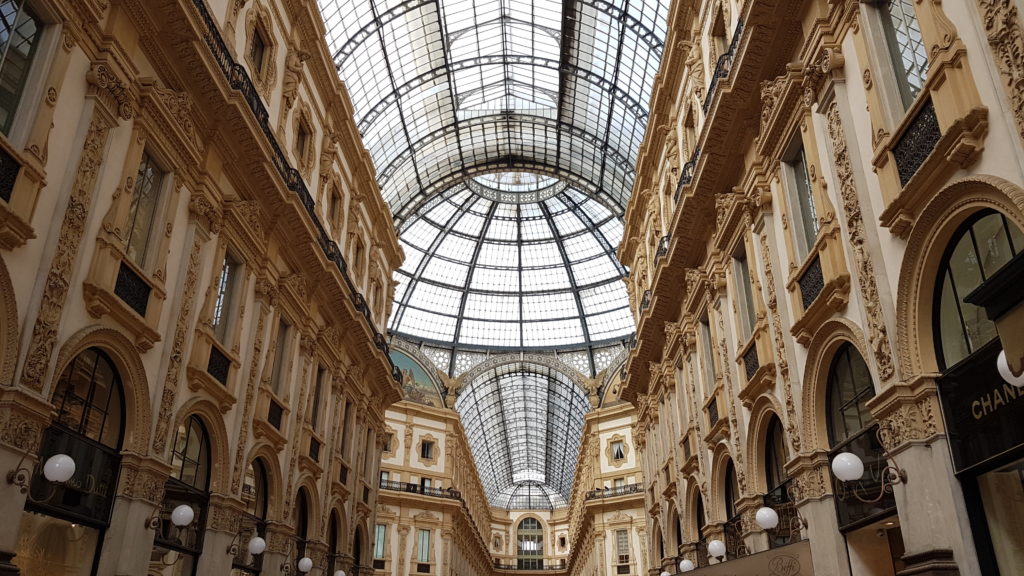 Located close to the Duomo, it deserves a visit. But a flash passage (the time to take a photo) will suffice. Indeed, the coffees are very expensive there. The glazed building is however really impressive and made me think a little of the Leadenhall Market in London. Again, you will discover during the free tour that you will choose quite nice anecdotes about the place.
3. The Church of Human Skulls
Its real name is San Bernardino alle Ossa. His particuliarity? Containing an ossuary whose walls are decorated with thousands of real human skulls and bones. No, these are not copies! Needless to say, it's a little confusing… But as our guide explained to us: at the time, the relationship to death was quite different. It is therefore not so surprising that in the 12th century, some had the idea of ​​recovering the bones of corpses buried not far from there to use them as decoration. After all, in the Czech Republic and even in the catacombs of Paris, you can also see skeletons.
The visit is free but do not hesitate to make a donation to help with the maintenance of the premises.
4. Sforza Castle and its museums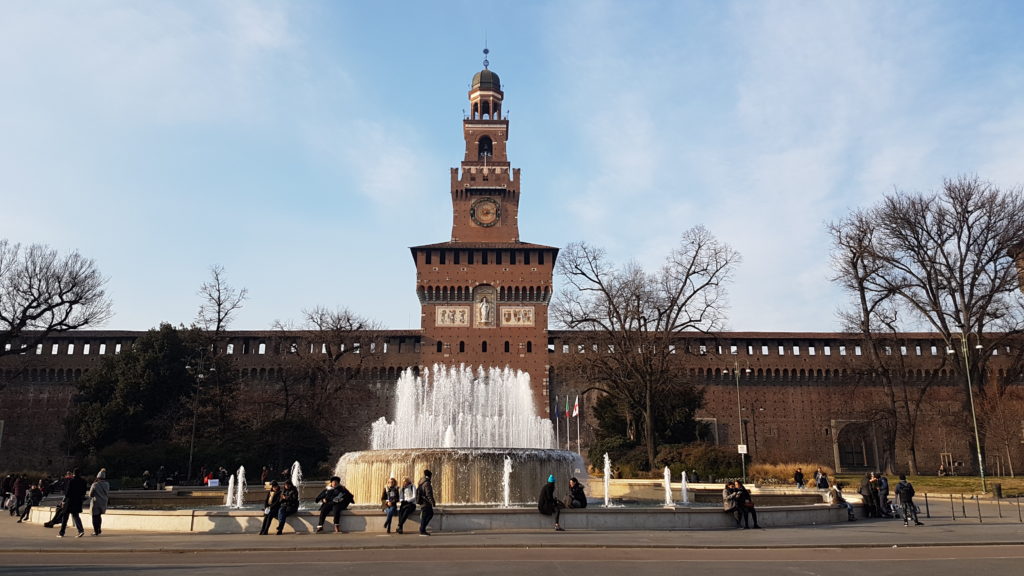 This castle (which was originally a fortress) belonged to the Sforza family. Under their control, it has become one of the most emblematic places in Milan. Over the centuries, it passed from hand to hand and was destroyed several times. It is now completely renovated and houses several museums. Since I'm not very "museum", I much preferred to see it from the outside than from the inside. However, it is possible to spend several hours visiting everything it contains: the museum of ancient art, the art gallery, the Egyptian museum, prehistory, musical instruments, furniture and decorative arts. If you like museums moderately, don't linger inside (or select carefully what you want to do).
It is possible to see the castle from the outside for free every day from 7 a.m. to 7.30 p.m. Museums are closed on Mondays. You will therefore have to go see them from Tuesday to Sunday, from 9 a.m. to 5:30 p.m. The entrance will cost you 10€/person, but the first Sunday of the month, it's half price.
5. Sempione Park
Right next to the Sforza Castle, we find Sempione Park, a green lung right in the city. It is very pleasant to walk there, especially if the weather is good. Inside, there are several sports fields and bars. It has nothing special except for a few stretches of water where you can see turtles. It is a perfect stop to rest after sightseeing.
6. The Monumental Cemetery
This is not the first time that we have visited a cemetery on vacation. As a reminder, we had already done this atAssistens Garden in Copenhagen. And, as in Denmark, the cemetery in Milan is worth a visit, mainly for its funerary art. Indeed, here the tombs are true works of art. There is a simple explanation: the more impressive the tombs, the more it meant that the family was rich and powerful. So don't be surprised to see elegantly decorated mausoleums several meters high. In our opinion, this place is definitely worth a visit. You can easily spend several hours there. Even if you don't like art, it is very pleasant to walk around!
7. The painting "The Last Supper" in Santa Maria delle Grazie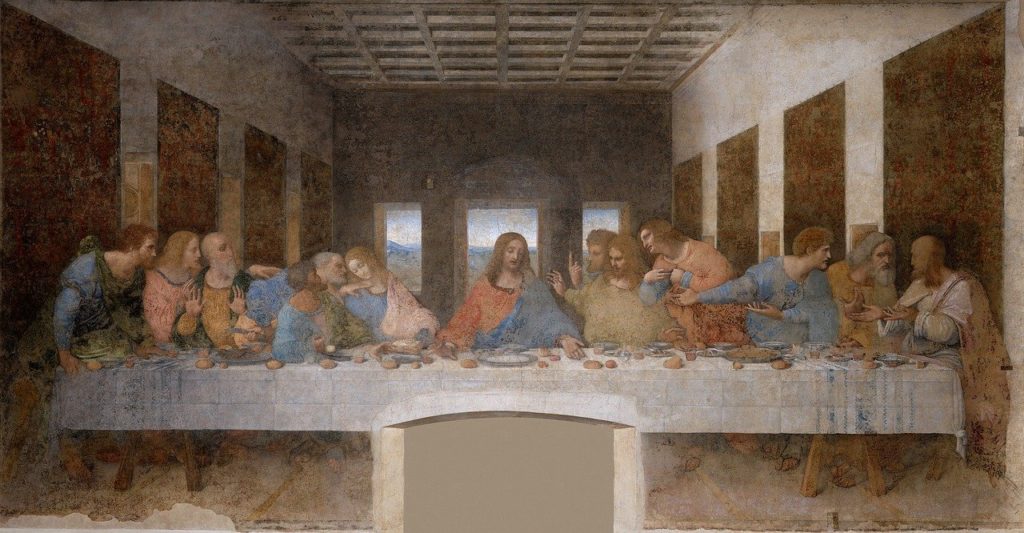 Let's make it clear right away: I never went to see him during either of my two visits to the city. Indeed, I find it very expensive for what it is… But if you are an art lover, we recommend it. It is still one of the most famous paintings in the world. Painted by Leonardo Da Vinci, it represents Christ accompanied by his 12 apostles during his last meal the day before his crucifixion. According to the New Testament, it was at this time that he instituted the Eucharist by pronouncing the words: "this is my body…"
The cheapest option is to book the table viewing + purchase of a book. It will still cost you 24€/person at the full price. Discounts are possible but I'll let you see on the site.
8. The "fuck"
This is a stop of a few seconds, the time to take a picture. But still, seeing a giant middle finger just in front of the Milan Stock Exchange is surprising. His author? Italian artist Maurizio Cattelan. He is known to art fans for his subversive and deliberately provocative side. If you don't know, don't hesitate to google, it will certainly make you react.
If Milan was able to become one of the wealthiest cities in Europe and Italy, it is thanks to its access to waterways. At the time, most of the trade was done by boat. But if you are a bit observant, you will still find that Milan is inland. How was the city able to participate in this river trade? Thanks to the artificial canals, of course!
From the 12th century, the leaders of the city decided to build several canals to connect Milan to the lakes (see below), but also to the Po river and the Ticino river. Thanks to these arrangements, Milan was able to trade easily with Europe. The Naviglis (or canals) located to the south-west of the city are the remains of these ancient waterways on which many merchant ships sailed. Today, you can go for a boat trip, a walk or a bike ride or even party. The Naviglis are indeed a very popular place for partygoers. To find them, just type "Naviglio Pavese" or "Naviglio Grande" on your GPS.
10. If you stay more than two days: make a getaway to the lakes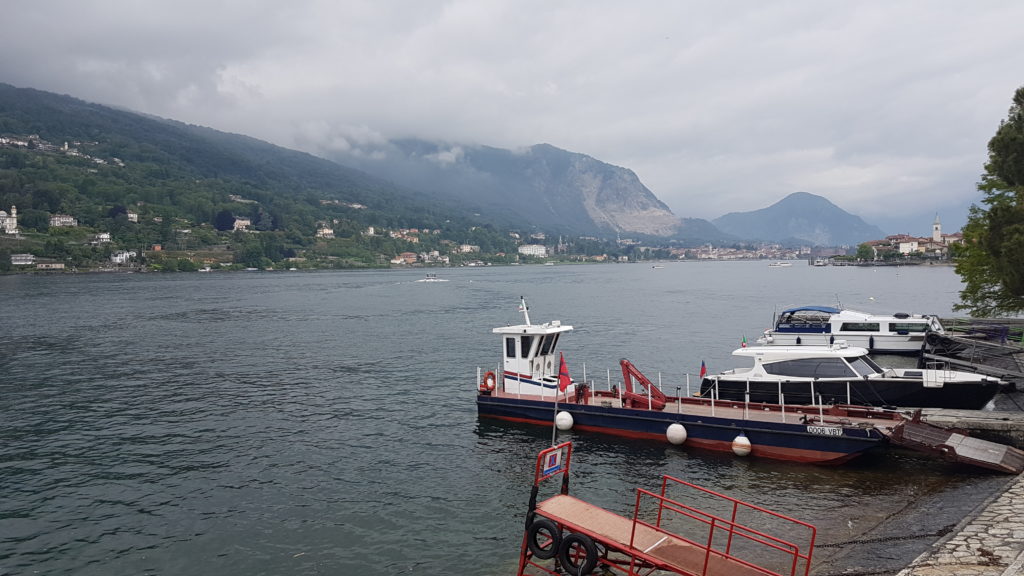 From Milan, it is very easy to get to the lakes either via an organized excursion or on your own. Whether you choose Lake Garda, Major Major or Lake Como, you will have about 4 hours of driving by car (2 hours to go and 2 hours to return). It is quite possible to make the round trip in one day but, if you have time, we still advise you to sleep there, you will enjoy it more. We have chosen to devote a day to Lake Maggiore and two full days to Lake Garda.
How to reach Milan from Malpensa airport?
By bus (that's what I did the first time). The trip costs 8€. We arrive at Milan Central Station in 1 hour. From there, you can easily take the metro to access the duomo for example.
By train. The trip costs 13€. You arrive either at Milan Central Station or at Piazza Cadorna. From there, you can take the metro easily. The trip costs slightly more but is faster as it only takes 30 minutes.
Getting around in Milan
Getting around the city is quite simple as Milan is well served by public transport. If you don't take the metro too much, opt for a one-way ticket which will cost you 1.5€. Otherwise, there are 24h (4€50) or 48h (8€25) packages. Please note that 24-hour passes are valid for one day from 12:01 a.m. to 11:59 p.m. So if you validate your ticket on Monday 9 a.m., it will not be valid until Tuesday 8:59 a.m. but will stop working Monday at midnight. Depending on the area you are in, tickets may be slightly more expensive. To buy them, just go to ATMs.
What to eat in Milan?
Drawing up an exhaustive inventory of all the culinary specialties of each Italian city would take a long time. Here are two must-haves: the Milanese escalope (breaded meat) and the Milanese risotto (with saffron).
Where to eat?
In the center
Pizzeria Piz (Via Torino) : A small typical restaurant (but very noisy) that we finally appreciated (well especially me, Mr. was more skeptical). To make us wait while we sit down at the table, the waiters systematically offer a glass of prosecco and a slice of pizza. Then you have the choice between a limited number of pizzas (3 if I remember correctly). The food is very good and not expensive. Sign that the quality-price ratio is at the rendezvous, many Italians come to eat there. The only downside is that there are so many customers that the service is chain.
(Very) outside
They are a bit far but I note them in this article because I strongly recommend them. If I return to Milan, I will definitely visit these two restaurants.
The Zoi (Via G. Mattei) : A vegetarian and healthy restaurant that will appeal even to meat lovers. Those who think that you can't make good dishes only from vegetables will be amazed to test the ZOI menu. I have excellent memories of my menu where all tastes were fine and under control. Special mention to the beetroot steak with truffles: a delight. In the end, it cost us a bit expensive but we clearly got our money's worth.
Pizzeria Partenopea (Via dei Transiti) : This is where I ate the best carbo pasta of my life. They were so good that I would go back to Milan just for this restaurant…
And you, have you ever been to Milan? What did you enjoy doing?