DXB Entertainments, the owner of Dubai Parks and Resorts, has announced its audited financial results for 2018, as well as the results of its strategic review.
The financial results show a 22 per cent improvement in visitation. Occupancy at the Lapita Hotel up from 35 per cent to 60 per cent, whole there was a 50 per cent reduction in EBITDA losses compared to the previous year.
On its strategic review, following the demise of plans for Six Flags Dubai, DXB will focus on the expansion and enhancement of Motiongate Dubai and Bollywood Parks, which are operated on DXB's behalf by Parques Reunidos. In addition, the resort features a Legoland Dubai theme park and water park, operated by Merlin Entertainments.
Funds from the Six Flags rights issue will be used (subject to shareholder approval) to add "world record rides":
Approximately 10 to 12 rides will be added to Motiongate and Bollywood, including thrill rides at the former.
Remaining wrinkles will be used and refreshed for future destination enhancement.
A one off charge of AED 551 million ($150m) has been made against irrecoverable costs incurred in relation to the Six Flags project.
DXB has cut like-for-like full-year EBITDA losses for 2018 to AED422m ($115m) from AED210m ($57m) a year ago. On visitor numbers, there has been a steady improvement, with the park attracting 2.78m visitors – from 2.27m in 2017.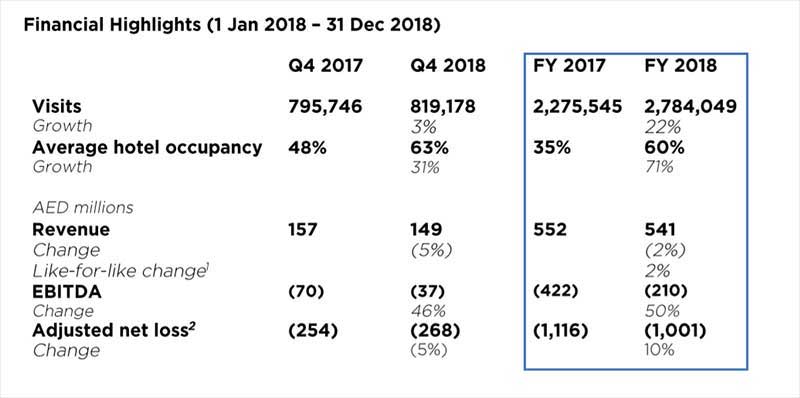 Sixty per cent of visitors last year were from within the UAE. The strategy now will be to attract more international visitors.
Commenting on the 2018 financial results, mohamed almullaCEO and Managing Director of DXB, said: "I am also pleased to report that the strategy for targeting residents has been successful with 60 percent of our guests originating from our home market.
"However, we need to build our international visitation, which delivers higher yields, and is crucial to delivering our target of EBITDA breakeven during the second half of 2020. The focus of 2019 is ramping up our international visitation whilst maintaining our cost base."
"As a result of our revised strategic review, an expansion plan is recommended that will, subject to shareholder approval, see world record rides placed into Motiongate Dubai and Bollywood Parks Dubai, delivering value to both our customers and shareholders."
Six Flags theme park Dubai
The new strategy comes after the Six Flags theme park project in Dubai was put on hold as financing was no longer available.
The proposed expansion of Motiongate and Bollywood will be funded through existing cash reserves with no additional debt and any remaining surplus funds will be used for corporate purposes.
Six Flags released initial plans in 2016 for a new theme park at Dubai Parks and Resorts.
However, a strategic review of the project was announced in November after DXB Entertainments posted a loss of 81 million dirhams ($22 million) for the third quarter.