Economic Vice President of FC Barcelona, Edward Romeuexplained that the Barça club has "better offers than those of CVC with LaLiga", an agreement that the Catalan entity has rejected because it does not want to "mortgage television rights for 50 years" and because "it supposes a tutelage that cannot be accepted" .
[Más información: Las dudas del nuevo Barça de Laporta y Xavi: guerra interna por CVC, fichajes y una hipoteca suicida]
This was explained by Romeu this Friday in an interview in The Mon to RAC 1, in which he added that FC Barcelona has "a parallel offer from CVC in which it would enter practically the equivalent amount (270 million euros)" in the middle of the term. "CVC and other funds offer you the possibility of transferring 10% of television rights for 25 years," he reported.
Among these other funds, the Barça economic vice-president recognized that "Bank of America could be one of the options". In any case, he made it clear that Barcelona does not want to give up more than 10% of the television rights. "I don't know if we will reach 270 million euros, but we will be quite close. What we don't want is to mortgage ourselves for 50 years," he insisted.
On the other hand, he returned to put in evidence the frictions that the FC Barcelona has with the president of The league, Javier Thebes. "He has told us that if we sign his agreement with CVC we will have one thing and, if we don't, we will have another. We have a problem. It is not normal for a person who is an employee of LaLiga to kill with the two main shareholders (Barça and Real Madrid)," Romeu considered.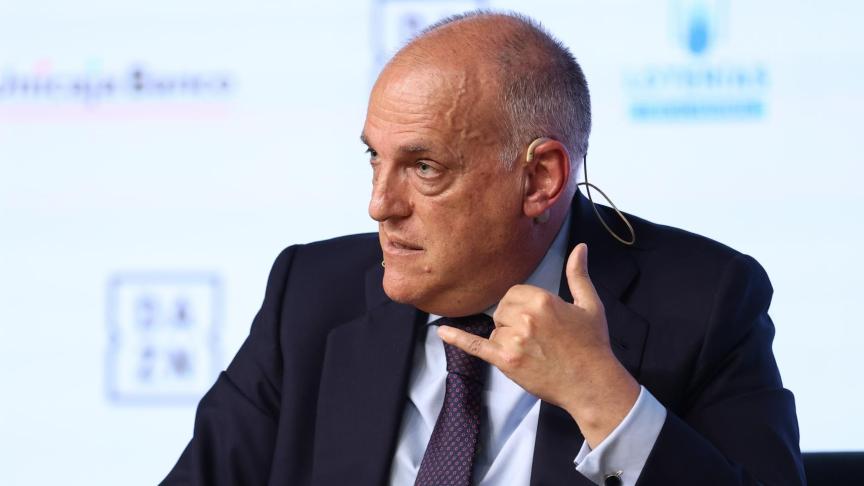 economic levers
The azulgrana club has set a Extraordinary Assembly of Compromising Members for June 16 with the aim of obtaining the go-ahead to be able to activate the economic levers that would involve the sale of 49.9% of Barça Licensing & Merchandising (BLMthe retail sale of FC Barcelona) and the transfer of 25% of the income from the exploitation of television rights.
"We are not excited about selling any rights or assets, but we will have to apply some measure. What we want to do is for the partners to let us have all the possible levers enabled to have more freedom of negotiation," Romeu explained.
And he added: "We have to buy time. We must have all the levers enabled (the compromising partners have already given the green light to the sale of 49% of Barça Studios) and choose the best one so that the numbers for this season are positive".
On the other hand, he revealed that right now the Barça club has on the table an offer of 275 million euros for 49.9% of BLM. "We don't like it. We ask for much more," he said.
On another of the open fronts to improve the economic situation, the reduction of the wage bill, Romeu said that "Mateu Alemany has achieved a reduction of 150 million euros". In any case, he pointed out that "it is still not enough because the wage bill right now is 560 million, practically double that of Bayern Munich."
Precisely, one of the stars of the German team, Robert Lewandovsky, interests Barça for this summer transfer market. "Right now it is not possible to sign him as is the LaLiga regulations. But if we manage to enter triple his salary and amortization, it would be possible," Romeu explained on this matter.
Follow the topics that interest you